Whether you're looking for bridesmaid proposal gift ideas or bridesmaid thank you gifts, you need to make sure you get them something special to mark the memorable occasion. Your bridesmaids will be by your side throughout the wedding planning and the big day, so finding the best bridesmaid gift is essential! In this guide, we've pulled out our top tips and advice for bridesmaid proposal box gifts and personalised bridesmaid gifts, with ideas for all budgets.
How much should I spend on Bridesmaid gifts?
When planning a wedding, budgets are always a major aspect to keep in mind, and that applies to Bridesmaid gifting too. It's an exciting time, and you want to show your bridesmaids how much they mean to you with a beautiful bridesmaid proposal box or thank you gift, but you're limited in terms of budget. Not to worry, there are ways to create a meaningful bridesmaid proposal box on a budget or even thoughtful thank you gifts.
In this guide, we'll give tips on the best bridesmaid gifts for all budgets, meaning you can give your bridesmaids the gifts they deserve without breaking the bank.
Bridesmaid Proposal Box Ideas
Bridesmaid Proposals are the latest wedding planning trend and are a cute way to ask your closest friends to be your bridesmaids! You can tailor your box to suit your budget, and these can easily be made to be low-budget and still very special.

A box filled with low-cost treats is the easiest way to ask your besties to be your bridesmaids and is perfect for keeping you on track with your budget. Get a nicely decorated box in your colour scheme and fill it with cute and affordable gifts that will help your bridesmaids with planning, or tell them about your wedding theme.

There are some fantastic shops online providing affordable bridesmaid notebooks, bridesmaid badges and even bridesmaid sweets that are sure to get the message across. We love the Etsy store Team Hen for their amazing selection of affordable bridesmaid gifts!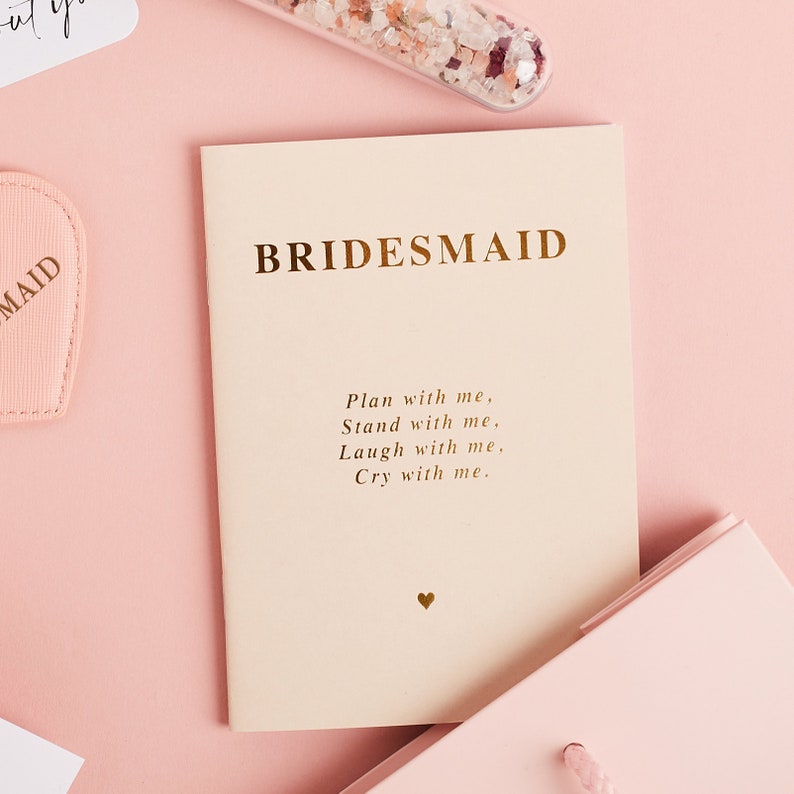 Make sure to add a note telling them how important they are in your life and how much you value them being there for you. Finally, add some confetti for an extra special finishing touch, and throw in a mini bottle of something sparkly to get the celebrations started!

Personalised Bridesmaid Gifts

Personalised Bridesmaid gifts are a special way of showing your bridesmaids how much you care and marking the special occasion.
You can personalise bridesmaid gifts with their names and your wedding date, and these gift ideas will work as a special thank you bridesmaid gift on the wedding day or even as a bridesmaid proposal gift. We LOVE the idea of a personalised necklace or bracelet for your bridesmaids, as it's something they can treasure forever. Choose from a range of brands at Joshua James, with Thomas Sabo's engravable bracelets offering an affordable choice in different styles, or go for an investment piece with the Joshua James Signature Engravable bracelet.
Bridesmaid Jewellery Gifts

Jewellery makes the perfect bridesmaids' gift idea for something they're guaranteed to love and use. A piece of pretty jewellery is something your bridesmaids can treasure forever, and can even become a super practical gift that they can wear on the wedding day itself. Whether it's wedding day jewellery or simply a thank you gift for after the wedding, there are plenty of options to suit varying budgets.

A simple pair of elegant stud earrings with a thank you note makes a beautifully simple jewellery gesture that your bridesmaids can wear for any occasion. Alternatively, an elegant bangle is a wonderful symbol of eternal friendship and gratitude, proving a highly popular choice for brides looking for the perfect bridesmaid gifts. Or, why not gift your bridesmaids with a matching necklace each to wear during the ceremony? They can be as simple or as decadent as your style and budget allow, and wearing them during the ceremony means your maids will have a stunning memento from your big day.
Another sweet idea would be to gift your bridesmaids a Nomination charm to celebrate the occasion. Whether that might be a charm engraved with their name and the date of the big day or a friendship-themed charm to show them how much you appreciate their love and support.
And jewellery doesn't have to mean just the classics; why not go for something a little different like a sparkling Swarovski crystal pen? You could even choose a jewelled compact mirror for each of your girls; practical and beautiful!
Bridesmaid Spa Day Gift: Higher Budget
Rather than a physical gift, why not treat your bridesmaids to an unforgettable experience instead? If you've got the budget and you're stuck for bridesmaid gift ideas, nothing can really beat the gift of spending a bit of quality time with your girls once the wedding is over and you can all relax together. Lots of brides are turning to this more modern, experience-based approach to thanking their bridesmaids for all their hard work and support. Whether you choose a full spa day for a bit of pampering, or opt for a spot of afternoon tea and champagne, this is the ideal solution for brides who simply can't decide on the perfect gift.
And what about your groomsmen?
Grooms, you're not off the hook. The giving of groomsmen gifts is becoming more and more common, and it's a great gesture of gratitude for your closest friends and family. Some great ideas include classic men's jewellery and accessories, small enough not to break budgets but special enough to demonstrate how thankful you are.
An ideal groomsmen gift option is the classic cufflink set. Doubling up as a practical item for wearing on the big day, a set of cufflinks is a stylish and affordable bulk gift that your guys can keep and wear for years to come. Slightly bigger budget available? A set of matching men's watches makes a super-suave groomsmen gifting gesture; acting as an incredible memento of the wedding for your entire Team Groom.
Other highly popular groomsmen gift ideas include bow ties, personalised pocket squares, luxury grooming kits and hip flasks, all affordable to suit a range of budgets and tastes.
Got your own wedding jewellery sorted yet?
Before you start thinking about groomsmen and bridesmaid wedding gifts, let's make sure you've got your own wedding jewellery chosen and sorted. Most importantly, your wedding rings. Are you going sleek and modern with white or rose gold? Or are you sticking to tra
dition with plain yellow gold bands? Whichever style floats your marriage boat, our complete collection of wedding rings here at Joshua James Jewellery has something that will make you want to say 'I Do'.